A Special Kind of Class
alerted me to the linky party happening over at
What the Teacher Wants
. As a new member of the teaching blog world, I'm really excited about this chance for community!
1. What are you thankful for in your classroom?
Our new iPad. Our school has something called "Wish Night" sponsored by the PTA where parents are encouraged to donate money to help provide for the "extras" in public education. One parent made a very generous donation to be used for the purchase of an iPad 2, case, and apps! We are so excited, and the kids can't get enough of it! Even some of our less verbal kids have learned the word iPad. Gotta love it.
2. What person are you most thankful for?
My family, friends and (especially lately) my more experienced coworkers, who make me look good even when I feel clueless!
3. What 3 blogs are you most thankful for?
Certainly more than 3 but here you go:
-A Special Kind of Class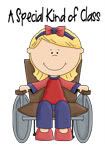 -Teach Preschool
-Kindergarten Klub

4. What guilty pleasure are you most thankful for?
Reese's Fast Break candy bars (a Reese's Peanut Butter Cups with nougat!), Diet Coke, Hulu, Pandora (my morning commute is 1.5 hours YUCK!)

5. What are you most thankful for?
The new transmission in my car, which makes me trust it (somewhat) more than I did before :)